USS KIDD
While you are in the Capital City, visit the USS KIDD, which is located in the heart of scenic downtown Baton Rouge. If you're looking for a unique, family-friendly or historical place to visit, the USS KIDD is a perfect attraction for all visitors.
While you're there, explore the decks of the USS KIDD in person, see the aircraft that soared through the skies of Southeast Asia during two eras of conflict, examine the dented helmet of an infantryman who stormed the beaches of Normandy, touch the names of the fallen Americans at the Louisiana Memorial Plaza and so much more.
For the more adventurous traveler, enjoy an educational overnight stay while camping aboard the USS KIDD. You'll gain firsthand experience of close-quarters living and learn about the courage displayed by our service members as they faced German U-boats and Japanese kamikaze aircraft.
Your stop for everything USS KIDD! Plus, Louisiana and military-oriented toys, games, gifts, and...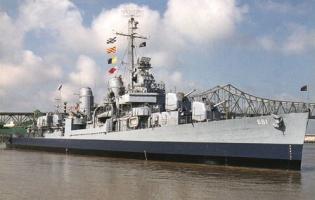 WWII Fletcher class destroyer, restored to her 1945 appearance with over 50 inner spaces to see....